Upcoming Exhibition | Night Road: Works by Zhao Wenliang and Yang Yushu from Zhang Wei's Perspective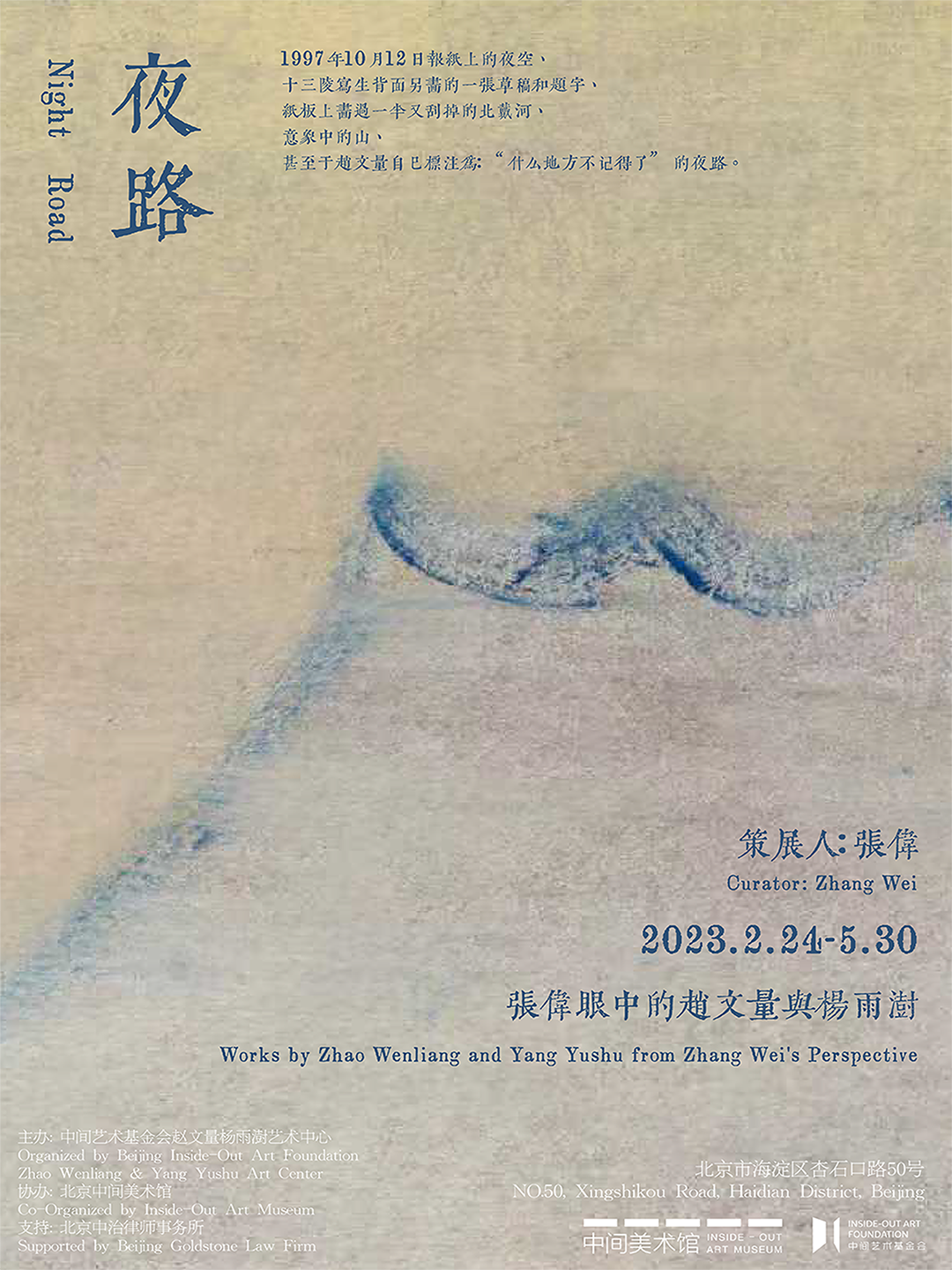 Night Road
Works by Zhao Wenliang and Yang
Yushu from Zhang Wei's Perspective
Curator: Zhang Wei
Dates: 24h February-30th May, 2023 (Please scan the QR code for reservation)
Venue: Beijing Inside-Out Art Foundation Zhao Wenliang & Yang Yushu Art Centre
In 1973, the novice painter Zhang Wei met Yang Yushu while painting from life in a Beijing park. Since then, he often went to the suburbs of Beijing with artists such as Zhao Wenliang and Yang Yushu to sketch after work, forming a relationship with the two teachers as well as friends. They moved away from the city, avoiding the hustle and bustle of politics, and created their works in generous and tolerant mountains, forests and lakes. In the age of extremes, they completely integrated their personal state of mind and proposition into the form and content of their paintings, discovering an inner release that gives these works an inner tension. Artistic creation and interaction became a spiritual harbor for them to preserve their individuality and liberty in an abnormal social environment, and they thus formed a flexible group, later called The No Name Group. After half a century later, Zhang Wei was invited by the Zhao Wenliang & Yang Yushu Art Center to approach the works of Zhao and Yang again, in order to retrace to the moments of creativity that they shared.
Zhao's and Yang's works were absorbed in around landscapes, objects, and friends, mostly using general but representational brushstrokes to express the images they perceived. Browsing their works, Zhang has focused on the ones that, in his opinion, have received less attention but closely relate to his own artistic interests, paying particular attention to formal characteristics such as color, brushstrokes, and alterations in the lines. In this exhibition, Zhang has selected seventeen works, including fourteen by Zhao and three by Yang.
Don't remember where it is, Zhao Wenliang, Oil on paperboard, Year Unknown, 19×15.7cm
Untitled, Zhao Wenliang, Oil on newspaper, Around 1997, 28.5×24.5cm
The paintings selected by Zhang are mostly by Zhao's, they are wrapped in newspapers and boxes that the artist himself has not catalogued or titled, making it difficult to identify the specific objects or places; rather, the paint and brushwork strike viewers with a synesthetic experience. Among them are the night sky painted on a newspaper of October 12th, 1977; a sketch at the Ming Imperial Tombs with scribbles and calligraphy on the back; a cardboard with the Beidai river half scraped off; memories of mountain; even the night road with the annotation "I don't remember where it was" from Zhao himself. These paintings with flat and spontaneous brushstrokes, diverse materials, indistinct themes and subject matter, and a certain degree of blankness and unfinishedness, these sketches seem like exploratory attempt in the large number of Zhao's life drawing works, sometimes Yang Yushu would jokingly refer to these works as "inexplicable".
Beidaihe Beach, Yang Yushu, Oil on paperboard, 1976, 27×20cm
The artworks of Yang's on display included one old work and two recent works. In Beidaihe Beach (1976), paint has been scraped by a palette knife to render the simple forms of sea and moist sand beaches. It is clear that the artist has carefully manipulated the size and edges of the dark blue and brown. More purely formal aesthetics has replaced light, shadow, and spatial relations. Zhang specially enlarged Yang's painting Beidaihe Beach seven times and juxtaposed with the original work, also used walnut wood and linen to hang and frame the original work to maximizing the visual effects of the artist's materials and colors. Yang's new works appears more sophisticated than those of the past, with brighter and more luminous colors. The Imperial Palace painted in 2022, in frontal view of the Forbidden City's Shenwu Gate fills the entire image, with bold and bright colors such as pink, green, turquoise (bluish green), and scarlet; while in the Ming Imperial Tombs, the mausoleum's glazed tiles sport a saturated but not dazzling yellow, forming subtle, harmonious layers with the blue sky, green trees, and purple walls. Loose color of blocks and white space lend a sense of ethereal lacunae to the works, creating an illusion between one- and three-dimensional, conveying the "clear, righteous and spiritual aura" that the artist pursues.
Fujiyama Draft, Zhao Wenliang, Oil on paperboard, 1970s, 21.5×15.3cm
From the group of works selected by Zhang, we can strongly feel that the two artists' control of colors and lines on small cardboards. These "equivocal" paintings on nature differ not only very different from socialist realism that dominated their art in the early to mid-1970s, but also from the artists' own works that appear more "clear." The use of blankness and gaps transcends the visual reality of the objects to pursue a sensory reality. This is why Zhang chose to exhibit these paintings – they had profound influence on his own works. As both personally experienced, Zhang sees a more layer of message in Zhao's and Yang's persistence on painting from nature in a harsh political environment: a spiritual dialogue with nature, self, and society. Seeing the abstract in their works, Zhang focused in the original works and highlights the spiritual elements hidden in the brushwork and the images based on the real world. He hopes to help the audience see the artists in a holistic manner and provoke more discussions on the works themselves. In Zhang's opinion, the subjective brushstrokes resulting from personal creative habits make more unique in Zhao's and Yang's painting language.
Sketching of the Ming Tombs, Zhao Wenliang, Oil on paperboard, 1968, 28.5×24.5cm
Over the years, Yang has always repeatedly taken the same subject matter, for example, taking different compositions, colors and edge treatments for the theme of "palaces". Choose a bright orange, a rich brown or a large area of pink and apply it to the paper using scraping, stacking and flattening techniques. In these works on the same subject across time, he keeps trying to gradually solve his very specific questions about color, shape, feeling, etc. And seven of Zhao's artworks on display also depict scenes at night, where we always see a light shimmering in the dark blue or a round of moonlight. According to Zhang's recollection, this seemingly relaxed glimmer is the part of a painting that Zhao attaches the most importance to, and he revise it repeatedly, expending a lot of energy on the edges and not letting anyone disturb him. He left a comment on the purple-gray sketch on his creative practice that day: "The painting feels very dead, and the cow and the man have become gigantic objects, but the sentiments are still appreciable." These battles with themselves, unbeknownst to others, occur daily under their brushes, with no external referees. No matter how the outside world changes, Zhao and Yang remain faithful to their own perceptions, walking on their own "night road" ; they have chosen infinite freedom and turned their own life experiences into artworks, which have also become markers of their life. This "night road" of freedom must be one of loneliness, uncertainty, and exploration. The night surrounds their vision with the unknown. "The night road, no need to sing." As Yang Yushu said, fearlessly moving forward is the right way to travel the night road. Their thoughts and actions brush against rubble scattered, slowly flowing towards the flickering light in the distance. This group of artworks provide a glimpse into the reflections in the artists' mind as they approached that particular point in their career. The night has passed, the lights are on, and one will continue unfaltering on the night road
Text by Na Rongkun, Curatorial assistant, Research and Exhibition Department, Beijing Inside-Out Art Museum
Advised by Zhang Wei and Carol Yinghua Lu
February, 2023
Reservation
1. The exhibition will be open every Saturday and Sunday from February 24 to May 30, 2023. Please scan the QR code and fill in the information before 17:00 every Friday in order to make an appointment to view the exhibition the next day.
2. Reservations that do not comply with the rules will be considered invalid.
QR Code for Reservation
Artists
Zhao Wenliang (1937-2019)
Artist Zhao Wenliang was born in Harbin. He created literally his first work Tree and Cornfield, when applying to the Central Academy of Fine Arts in 1956. He was rejected because he commented that paintings at that time were all "stereotyped." In 1957, he went to Xihua Art Preparatory School to study oil painting. There he got acquainted with Yang Yushu as well as Zhang Da'an and Shi Zhenyu, who later became core members of the No Name Group. They frequently got together to paint plein air all over Beijing. Facing many restrictions in places nearby, they shifted their painting spot to Yuyuantan Park, marking the start of the so-called "Yuyuantan School of Painting."It was changed to the No Name Group when they mounted an exhibition in 1979. In the following six years, Zhao took care of his sick mother until her passing. After that, he travelled afar to make plein air paintings many times for 20 years. Zhao has devoted his whole life to art and kept painting till he died of illness in 2019.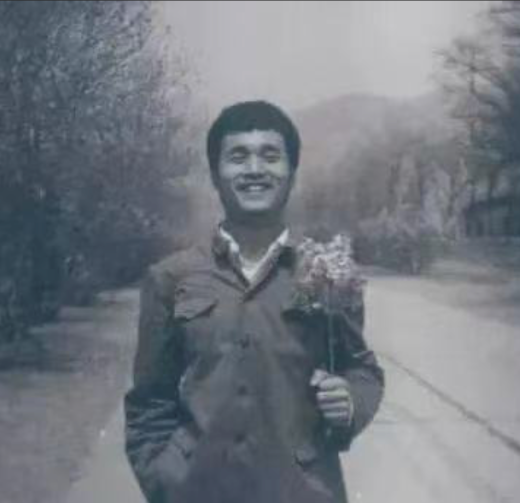 Yang Yushu (b.1944)
Yang Yushu was born in Beijing and had developed a strong interest in painting since he was young. He was rejected by art schools for many times due to his "problematic" family background. He went to Xihua art Preparatory School and get acquainted with Zhao Wenliang in 1959 and became Zhao's first student in 1062, starting their lifelong friendship. Such political movements as Red August (Hongbayue) and Destroy the Four Olds (Posijiu) in 1966 made him even more determined to keep painting. As a member of the No Name Group, he participated in two public exhibitions in 1979 and 1981, and some private exhibitions at friends' houses in 1980s. After short working experience in 1986, he has been travelling to paint plein air.
Curator
Zhang Wei (b.1952)
Zhang Wei, born in 1952 in Beijing. Going working in a countryside production team in Shanxi from 1968 to 1971, after returning to Beijing, he became a member of "The No Name Group", one of the active underground art groups during the "Cultural Revolution".
He lived in New York City, United States of America from the mid-1980s to 2005, and has lived in Beijing since then. He makes his living as a painter and nothing else.
海报设计:姚艺廷 / 刘靖文
翻译:席宁忆 / Sohee Kim
排版:朱雅楠