The Principle of Hope Artists' Talk no.2: Carlomar Arcangel Daoana
This Saturday, Beijing Inside-Out Art Museum is going to hold the second artists' talk for the exhibition The Principle of Hope. We will invite the participating artist, Filipino poet Carlomar Arcangel Daoana to share his poetry writing practice in an online session. We'll also invite Ai Kuo, a theatre artist and writer, to give a response. Daoana is a Southeast Asian poet who has received a lot of attention in recent years. Presenting his poems in The Principle of Hope is also the first time his works are introduced to the mainland. Daoana and Ai Kuo will read the original version and the Chinese translation of the poems shown in this exhibition for us online. The event will be in English and will be moderated by Scarly Zhou.
Carlomar Arcangel Daoana grew up and works in Manila, Philippines. On the one hand, his work captures the problems left by the city's colonial administrations by the Spanish and the American, and the struggles and dreams of its inhabitants amidst the wreckage of history. On the other hand, his poems offer subtle observations and reflections on pieces of modern life from the perspective of ordinariness. In the exhibition The Principle of Hope, we present Daoana's poetry on a variety of topics – from the experiences of growing up in the city streets, the relationship between people and their neighborhoods, to the metaphors of life hidden in the natural landscape. In addition to writing poems, Daoana also teaches at the Ateneo de Manila University's Art Department, writes literary criticism and curates at art gallery. In this lecture, he who has various identities will share with us how he contemplates the theme of poems and how his artistic practices are connected in multiple ways.
Selected Poem of Daoana
Sestina for Street-side Sorrow
Nothing famous ever came out of Cuatro de Julio,
The street that always interrupted the sleep
Of its inhabitants, including my grandmother's,
Who had to listen through the bawling sorrow
Of drunkards, the scampering of the police,
All of us under their mercy: our inheritance.
Largely debt and unhappiness, our inheritance
Was not visible to those living outside Cuatro de Julio—
If it were, other people, especially the police,
Would have been more forgiving, allowing our sleep,
Our silence, and our poverty. Exposed to sorrow
Like salt, we swallowed our tears, like grandmother.
Setting up a house by the street, my grandmother
Soldiered through a husbandless life, her inheritance
From God. No one was a witness to this sorrow
Except her five children and Cuatro de Julio
Which, in its early years, was conducive for sleep.
They would be meddlesome decades later, the police.
Once, on my way to public school, I saw the police
Chase my cousins for drug pushing. My grandmother
Never intervened. Soap operas and afternoon sleep
Were her chosen companion, her inheritance.
For living so long in a street called Cuatro de Julio
She should have been spared from this kind of sorrow.
Sometimes, like shabu or cough syrup, sorrow
Could be addictive. Even the steadfast among the police
Are honeycombed by it. Patrolling Cuatro de Julio,
What wild sadness were they storing? My grandmother
Could teach them a thing about this native inheritance
So instead of beating their wives, they could sleep.
In a riot or in the stoning of our house, I feigned sleep.
There's a limit to a boy's body in containing sorrow;
Feverish, I once wept complainingly over this inheritance.
They were busy searching another's house, the police
But I knew she heard me loud and clear, my grandmother.
In shame, I would write my address as Fourth of July.
Grandmother, forgive me for forsaking my inheritance.
I may have left Cuatro de Julio but not its sorrow.
The police have one less thing to worry about now. Sleep.
Please feel free to participate in our online discussion!
The Principle of Hope Artists' Talk no.2:
Carlomar Arcangel Daoana
Speaker:Carlomar Arcangel Daoana
Poetry Recital and Response: Ai Kuo
Moderator: Scarly Zhou
Voov Meeting ID: 500 891 102
Beijing 2021.11.20,2:00 – 3:30pm
Manila 2021.11.20, 2:00 – 3:30pm
Voov Meeting:


Streaming:
https://meeting.tencent.com/l/5pOxXzykQllQ
Artists' Bio

Carlomar Arcangel Daoana
Carlomar Arcangel Daoana is an art writer, university instructor, and poet based in Manila, Philippines. His fifth and most recent poetry collection, The Elegant Ghost, was published by the University of the Philippines Press in 2021. Yellow Ambiguities, an exhibition which he co-curated with Fr. Jason Dy, SJ at the Ateneo Art Gallery in 2019, explored the historical, political, phenomenological, and spiritual domains of color. He has won various awards for his art and literary writing, such as the inaugural Purita Kalaw-Ledesma Prize for Art Criticism, the Metrobank Art and Design Excellence (MADE)-Alice Guillermo Art Criticism Award, and the Grand Prize in English poetry in the Carlos Palanca Memorial Awards for Literature. His works have been published internationally, including the United States, Australia, Singapore, and Malaysia. Currently, he serves as the Chair at the Fine Arts Department of the Ateneo de Manila University.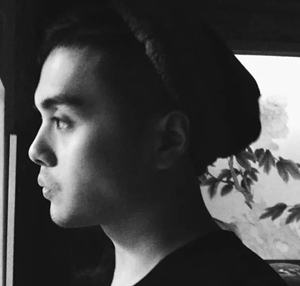 Ai Kuo
Theatre Artist, Writer, Producer. Been in ISTA(International School of Theatre Anthropology) — —Conceived and directed by Eugenio Barba. Now participate in researches and practices across different space, subject and medium. Kuo's been floating among Theatre, Art museum and Public
sphere, been in Youth Theatre Festival(Beijing), "Dünyada Bir Köşe" Theatre festival(Istanbul), Sydhavn Theatre (Copenhagen), Shenzhen bay Fringe, Avignion OFF and Edinburgh Fringe.
Moderator's Bio

Scarly Zhou
Scarly Zhou is currently working as a curatorial assistant at Beijing Inside-Out Art Museum. She cares about writings and artworks that reveal the complex human living conditions and collective affective state, with a focus on the discussions around moral psychology and modernism. She has a B.A. from Zhejiang University Department of Philosophy and a M.A. from University of Chicago Department of History of Art. She was the project coordinator of Stay Art Weekend 2020.
Editor: Scarly Zhou
WeChat: Wang Ren