Inside-Out Practice|Series of interviews with authors from Yishu #14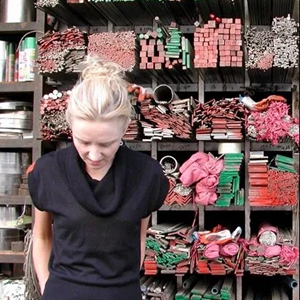 Diana Freundl
Diana Freundl is Interim Chief Curator at the Vancouver Art Gallery. She has curated and co-curated recent exhibitions including Moving Still: Performative Photography in India and major retrospectives Sun Xun: Mythological Time, Lee Bull and Bharti Kher: Matter and Howie Tsui: Retainers of Anarchy and Emptiness: Emily Carr and Lui Shou Kwan. Freundl has been the curator of the Gallery's public art space, Offsite, since 2013 and has presented several site-specific installations from artists including MadeIn Company, Reena Saini Kallat, Asim Waqif among others. Freundl was living and working in the mainland and Taiwan areas from 1998 to 2013. She studied at the Tsinghua University of Art and Design in Beijing and has an academic background in comparative religion, philosophy and graduate studies in journalism.
1. When and how have you come into contact with Chinese (contemporary) art and culture?
I was living and working in Taiwan from 1998 to 2004 as a journalist. While working for the Taipei Times I was covering the visual and performing arts beat, so I spent a lot of time in museums and galleries and with artists. The Taiwan art scene was my entry to contemporary Chinese art, and it was also then that I met Zheng Shengtian and I discovered Yishu Journal. In 2005, I moved to Beijing and was studying at the Tsinghua Academy of Art and Design. I lived on the campus, which was located on Guanghua Lu then (near Guomao), so I was surrounded by several young art and design students, which was very informative. After a year at the academy, I moved to Shanghai to work for MoCA Shanghai in 2006.
2. When did you join Yishu's editorial team and what does your job include? How did you collaborate with other team members?
I have written for Yishu in the past, but recently officially I joined the team. I am an Executive Co-Editor alongside Rebecca Catching. We are just beginning our tenure therefore, the process is rather new to us. I have known Zheng Shengtian for over 15 years and Keith almost the same. I also knew Laura and Chunyee, so the team is familiar to me, but we have never all worked together. I have long respected the work of each of these individuals so it's exciting to be working together as a team.
3. In what ways do you think Yishu distinguishes itself from other art publications and journals? What is particularistic about Yishu?
For me Yishu has always occupied this space in-between an academic journal (although it is not peer reviewed) and an art publication like Flash Art or Afterall. I think a lot of that is owed to the founding editor Ken Lum and subsequent Editor-in-Chief Keith Wallace. Keith expanded or perhaps refused to commit to any narrow definition of contemporary Chinese art. So, while critical reflection on contemporary Chinese art is at the centre of the publication, the art and artists that are covered include a more expanded definition of contemporary art.
4. The inaugurating issue of Yishu in 2002 posed a series of questions to prominent art practitioners in contemporary Chinese art. Now that Yishu has arrived at its milestone of 100 issues, we'd like to pose some of these questions back to you: What are your thoughts regarding the situation of art and culture in China today? What does Chinese art and culture mean to you? What does "China" mean to you?
For the first part of the question, I think that it's constantly evolving. China's art ecology has grown exponentially over the last 50 years, since those seminal exhibitions and happenings in the late 1970s and 1980s. However, it remains today heavily dependent on the support of private collectors and museums without autonomous government funding bodies. The reliance on the art market to sustain the art world inevitably leads to un/conscious bias of who or what gets shown. Also, while the art world might not be dependent on government support, it is still bound to its regulations in terms of content and restrictions.
"Chinese" art and culture encapsulates numerous cultural identities. There has never been a consensus of what it means to be Chinese. The sense of a national identity based on ethnicity has evolved over multiple empires with the idea of the nation state as its basis. The narratives that developed emphasized an authoritarian national identity that would also shape the social norms and tradition of the time. Regarding art history, I think all artists of any race, ethnicity and culture are made (by themselves or others) more aware of their identity when participating in global and international art exhibitions. Part of this is in the direct experience of seeing art from other countries and cultures within the same country. But much is also placed upon artists by the art world – artist, curator, critic, gallerist – who interpret the work through visual "clues" rooted in cultural identity. Over the century, artists have also had varying degrees of resistance, subverting or embracing of culture in artistic practice. This is also nuanced by additional layers of diasporic identity today and will be more so in the future.
Regarding the last question, for me "China" encompasses a complicated and contested geographical location and political system, it also embodies culture, ethnicity and multiple rich and long histories and traditions.
5. What do you think of the relationship between Yishu and art criticism in China over the years? What kind of criticism has Yishu fostered and promoted?
Because Yishu was one of the first publications to publish critical writing on contemporary Chinese art in English, it established a reputation both within and outside of China. However, the main distribution has been to universities and museums in north America. Therefore, Yishu has a long-standing reputation with scholars, curators, and artists. I think the impetus for the publication at the start and what has continued today is the mission to provide an accessible and informative journal for expansive discourse on contemporary Chinese art.
6. We have learned from Zheng Shengtian that all editorial staff work part-time. Besides as an editor at Yishu, what other activities and practices do you engage in?
I work full time as a curator at the Vancouver Art Gallery. Currently I am the acting Chief Curator.
7. Starting from 2021, Yishu will have two Editors-in-Chief. Have you worked with Rebecca Catching before? Have you two stated the 101st issue? If so, could you tease out a bit about the forthcoming issue? How is the collaborative editing process like and how do you divide the work? What is your vision of Yishu's future?
Rebecca and I met in Shanghai where we both lived for several years. We both come from experience of working in the arts and as journalists in China. And now are both in Canada (but live in cities on opposite ends of the country). We have never worked together before, but we have reviewed each other's writing, etc. and I believe we both share a similar vision when it comes to Yishu. We have only just begun so we are learning and this first Yishu will be a test, in many ways, to see how best we can work together as co-editors.
Yishu is primarily comprised of submissions. When we took over we reviewed various proposals and discussed a few topics that emerged for those. This first issue will highlight many female artists in addition to a focus on issues of gender and sexual identity. We have also introduced new features for the publication that will focus on collaborations with Chinese language publications and archives. Our idea is to broaden the access to discussions that are happening in Chinese on social media or other publications, where language may be a barrier for English only readers. We have asked an art writer in China to select and investigate from multiple perspectives a relevant issue or discussion that is taking place on social media. We hope to make this a recurring column in each issue. We are also collaborating with Asian Art Archive. They will select an article from their archive related to the themes addressed in the corresponding issue of Yishu. The idea is to feature relevant and often overlooked materials from the 1950s onwards which might not have been translated into English.
In addition to providing access to critical writing on contemporary Chinese art from around the world, we also hope to expand the definition of art to encompass a more diverse and expansive area of visual contemporary Chinese culture. This would include critical writing on film, theatre, dance as well as poetry, photography essays, short stories, etc. This feels highly relevant at a time when artists are becoming much more interdisciplinary in their practice. 
Interview Planning: Liu Yusi, Huang Wenlong
Interview Translation:Chen Jiashu
Proof-reading:Liu Qian, Zhang Ligeng, Huang Wenlong
Post Editing: Liu Qian
Design: Onion