Upcoming Exhibitions | 2023 SPRING EXHIBITIONS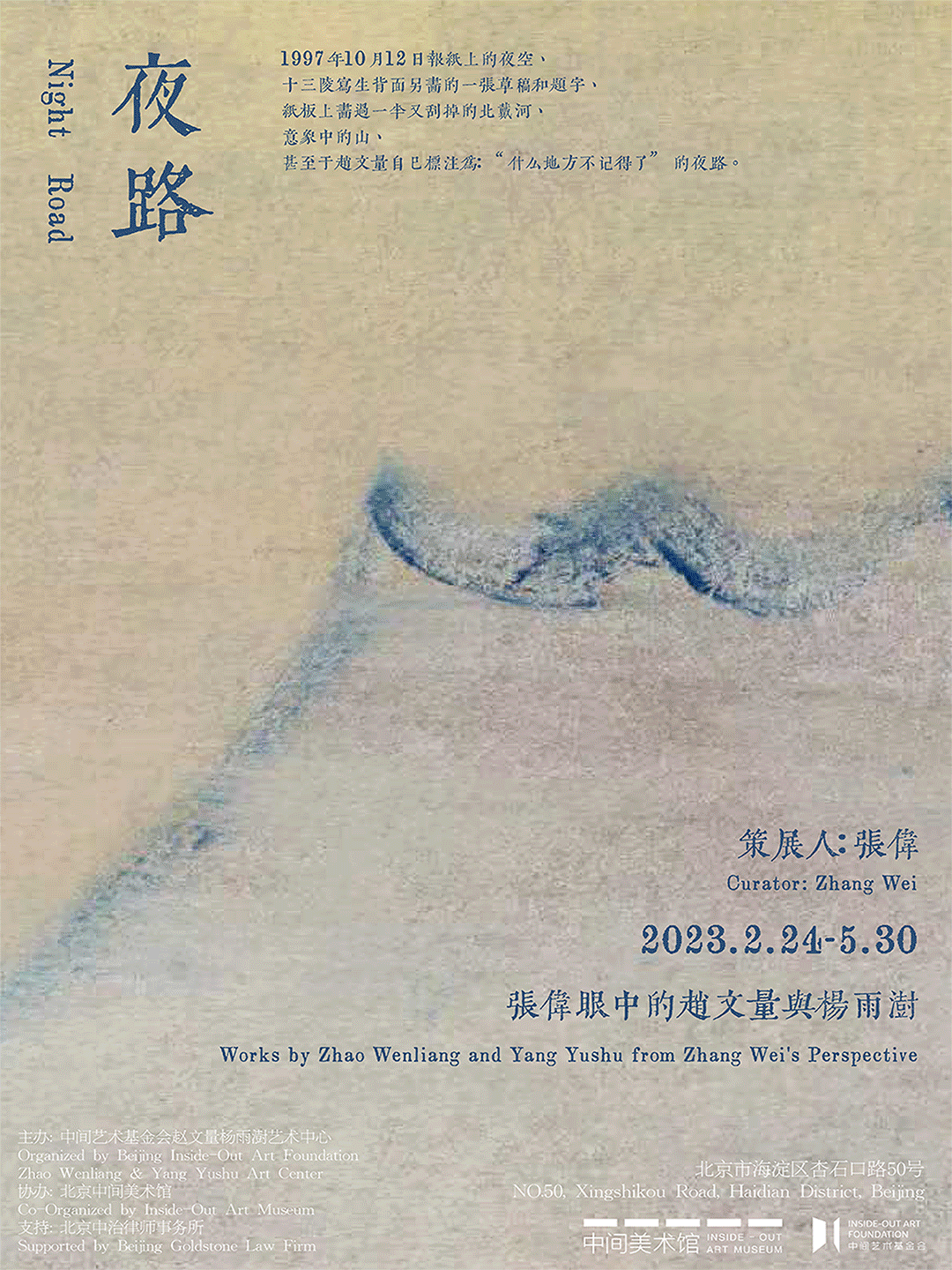 2023 SPRING EXHIBITIONS
As a contemporary art institution recognized for its independent and experimental spirit, Inside-Out Art Museum has been carrying out long-term art historical research, supporting non-commercial art practice and leading research and thinking in disciplines of humanity. Its spring programme consists of four exhibitions.
Night Road: Works by Zhao Wenliang and Yang Yushu from Zhang Wei's Perspective
Curator: Zhang Wei
Artist Zhang Wei curated the exhibition Night Road: Works by Zhao Wenliang and Yang Yushu from Zhang Wei's Perspective, choosing the less-noticed works of these two artists, which show more of an abstract leaning and are related to his own artistic interests. Zhang Wei especially highlights the formal characteristics of the picture, such as the use of colors, brush strokes, and changes in lines. These works are a divergent from the landscape and still life paintings of both artists, which tend to be more figurative than abstract.
Waves and Echoes: Zhang Qiang and Survey Sheets of Painting Groups, 1986
This exhibition presents a precious collection of archival materials from Zhang Qiang, founder and publisher of Fine Arts in China, a leading art newspapers published from 1985 to 1989. This newspaper gave critical exposure to new thinking and practices of contemporary artists and theoreticians, which was at the heart of the "New Wave Art" phenomenon of the 1980s. In 1986, Zhang Qiang sent out two survey forms he designed to young artist collectives active all over China, whose works have been featured in the newspaper. One form was meant for the collective and one for individual members, inviting them to explain their background, education, influences in art and thinking and their works. They responded by filling out the survey forms and wrote letters to Zhang Qiang further elaborating on their reflections on art, and attaching press clippings and photographs of their latest works. Based on all of these materials, Zhang Qiang wrote his book New Tides of Painting, aimed at faithfully documenting the dynamic trend of contemporary art in this period. More than 178 filled survey forms from 1986 featuring artists who became some of the most important figures later on as well as those who fell out of the radar, will be presented in this exhibition for the first time. This exhibition is a historical document into understanding the artistic landscape and intellectual context of the 1980s in China.
Italian Contemporary Art and Artists on the Silk Road
Curator: Angela Tecce
Italian Contemporary Art and Artists on the Silk Road will present the practice of more than 30 artists spanning multiple generations through more than 30 works. The list of artists included in the exhibition constitutes an index to the history of contemporary art in Italy after World War II. A selection of outstanding artistic figures from each generation from those born in the 1920s to the 1980s, are featured in this exhibition. The earliest piece featured is in 1967, and the latest in 2020, across the span of more than half a century. Among them, the works since 2010 are the main ones.
Artists: Alighiero Boetti, Bianco-Valente, Carla Accardi, Diego Cibelli, Domenico Antonio Mancini, Ettore Spalletti, Emilio Isgrò, Eugenio Giliberti, Eugenio Tibaldi, Enrico Baj, Fabio Viale, Flavio Favelli, Francesco Arena, Francesco Jodice, Gabriele Basilico, Gianni Dessì, Giulio Paolini, Jannis Kounellis, Luigi Mainolfi, Luigi Ontani, Maria Lai, Marisa Albanese, Masbedo, Marzia Migliora, Michelangelo Pistoletto, Mimmo Paladino, Mimmo Jodice, Nino Migliori, Nunzio, Paolo Grassino, Pamela Diamante, Perino & Vele, Pietro Ruffo, Sabrina Mezzaqui, Tamara Repetto, The Cool Couple, Umberto Manzo, Yuri Ancarani
Firewatching: Witness and Narrative
Curator: Yanan Zhu
Inside-Out Practice, focusing on publishing practice in the art field, is presenting Firewatching: Witness and Narrative. The exhibition presents 24 publications of photography published by the independent publishing house, 89books in Palermo, Sicily, Italy, and unveil the photography practices that travel through time and space to the audience through various media and methods.