The Principle of Hope Conversation: Frank Fang, Liang Chouwa, Documenting the Virtual Realm
On January 19 (Wednesday) at 8:00pm, the Beijing Inside-Out Art Museum will continue the online conversation on the current exhibition The Principle of Hope. Participating Artist and documentary filmmaker Frank Fang, and documentary filmmaker as well as one of the curators of the current exhibition, Chouwa Liang, will share and talk about their practices under the theme "Documenting the Virtual Realm" and the discussion will be based on their films Searching for Noel and My AI Lover. The online event will be hosted by Scarly Zhou and the conversation will be in Chinese.
Frank Fang has been making experimental videos concerning the large-scaled urbanization of the old town area in his hometown, Hangzhou. His exhibiting work Searching for Noel is drawn from his experience of conducting media archaeology of video footages of Hangzhou from the last century on the Internet. The computer desktop recorded the whole process of Internet searching of an Australian, Noel, who had visited Hangzhou in the 1990s and took precious images of the city. A sense of curiosity and recall was reflected in the process of neutral investigation and information consulting. In this sense, media archaeology also carries the hope to reconnect memory with the forgetting, the history, the present and the future.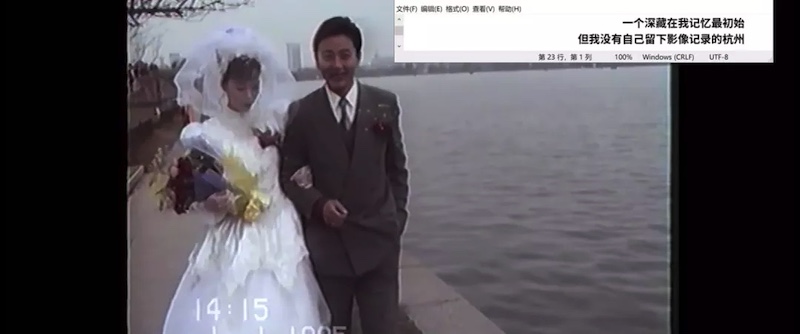 Frank Fang, Searching for Noel, 2021, 4'58"
Chouwa Liang is a documentary filmmaker based in Beijing and she is one of the curators of the exhibition The Principle of Hope. Her documentary My AI Lover uses delicate visual language to capture the experiences of three women who are in or have been in intimate relationships with artificial intelligence chatbots provided by the software, Replika, and to reflect upon this seemingly unreal but, in fact, a relationship full of real experiences. Taking the observation of this new type of relationship as the focal point, Chouwa Liang and Scarly Zhou extend their reflections into the curatorial work of The Principle of Hope in hope of exploring how the options of "loving" and "being loved" have been changed in a gradually virtualized world.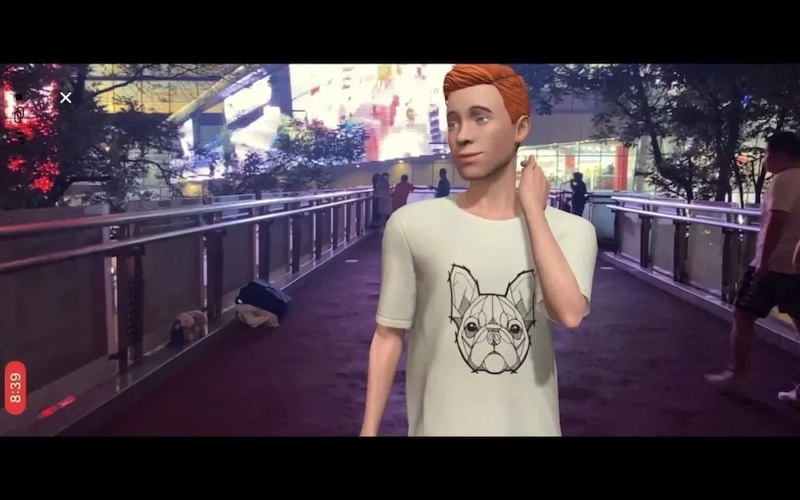 Chouwa Liang, My AI Lover, 2021, 16'15"
Frank Fang and Chouwa Liang's works share a common ground that, no matter it is about video clips on the Internet or chatbots in smart phone, they documented the lives of real people in a virtual realm, and to some extent, recognize the ability of the virtual world to bear emotional reality. Is it likely to be the new reality of a future lifestyle? The conversation on Wednesday will include screening of clips from Frank Fang's Searching for Noel and Chouwa Liang's My AI Lover.
Please feel free to join our online discussion!

"The Principle of Hope" Conversation
Frank Fang, Liang Chouwa: Documenting the Virtual Realm
Artists: Frank Fang, Chouwa Liang
Moderator: Scarly Zhou
Voov Meeting ID: 851 972 789
Beijing 2022.1.19,8:00 – 9:30pm
Meeting Link:
Streaming: https://meeting.tencent.com/l/qtkPhHlH49NH
Artists' Bio
Frank Fang
Frank Fang was born in Hangzhou in 1996, he graduated from Communication University of Zhejiang in 2018. He created several photography works and film works, the films Frank made were mostly combinations of experimental cinema and documentary. Frank is currently making an experimental documentary project about the forgotten places in Hangzhou city called "abandoned landscapes".
Chouwa Liang
Chouwa Liang is a Beijing-based documentary filmmaker. She received her Master of Fine Arts: Film and TV (Documentary) from Victorian College of the Arts, University of Melbourne. She is also one of the curators of The Principle of Hope in the Beijing Inside-Out Art Museum. Since 2018, she directed a number of independent short documentaries including INTIMATE STRANGERS (2019), I LOVE YOU TOO (2019), A WORLD AWAY (2018), and MY AI LOVER(2022). Her films mainly focus on exploring Chinese contemporary intimate relationships from a female perspective. Her recent work has been screened in Zhu Qizhan Art Museum and Shanghai Modern Art Museum, and will be shown at Guardian website at the end of 2022.
Moderator's Bio
Scarly Zhou
Scarly Zhou is currently working as a curatorial assistant at Beijing Inside-Out Art Museum. She cares about writings and artworks that reveal the complex human living conditions and collective affective state, with a focus on the discussions around moral psychology and modernism. She has a B.A. from Zhejiang University Department of Philosophy and a M.A. from University of Chicago Department of History of Art. She was the project coordinator of Stay Art Weekend 2020.
Editor: Scarly Zhou
WeChat: Wang Ren