The Principle of Hope Artists' Talk no.3: Li Jiaqi, Gary Zhexi Zhang
This Saturday, Beijing Inside-Out Art Museum is going to hold the third artists' talk for the exhibition The Principle of Hope. We will invite two participating artists, Li Jiaqi and Gary Zhexi Zhang to talk about their art practices and researches. The event will be in Chinese and will be moderated by Yin Shuai.
Gary Zhexi Zhang is a London-based artist who was born in China and whose work revolves around ecological concepts, unofficial economies, and the history of the commons, involving an exploration of how knowledge and technological systems shape political and social desires. In the exhibition The Principle of Hope, the artist presents the work Poyers! draws on one of the most audacious financial scams of the 19th century: the production and sale of millions of pounds of non-existent bonds for huge profits through the fictionalization and promotion of the Central American "playground", Poyers, which catered to the colonial gaze. The artist presents his collection of 19th century certificates for the purchase of Poyers shares and leaves a historical "future" thread in the exhibition by reading guides depicting the richness of the fictional playground and playing computer-generated videos of Poyers' landscapes, allowing for a constant shift between real history and fictional scenarios, thereby loosening existing narratives and perspectives.
Gary Zhexi Zhang, Poyers!(%3), 2021, 
Poyais%3 consolidated stock certificate, 1823

Li Jiaqi is also interested in the visual appearance and the inner substance of things, and tries to distance the two, exploring their relative independence and the possibility of mutual transformation. His video work Our TV, Your Success edits TV commercials from different periods and manufacturers, exploring the different states of the symbol of TV as a paradigm of success and the images about TV in production, transmission and consumption. In the nesting of the TV as an image and the images in the TV, the viewer is promised a utopian vision that can break out of reality on the screen. He reveals in a humorous way the expectations and deceptions inherent in the images.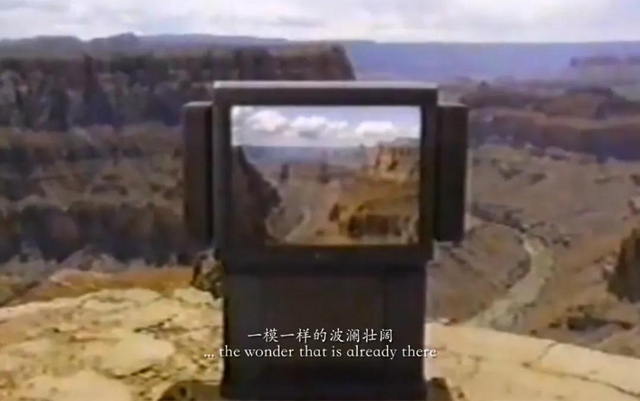 Li Jiaqi, Our TV, Your Success, 2020, video, 2'26"
Through their respective research and reinterpretation of history, the two artists give us the opportunity to meet with different personalities, cultures, worldviews and cosmologies in the exhibition, connecting the "future" in space rather than time, presenting us with the distant past of a future world, constructing a strange imagination, questioning the "only" future that exists, while proposing other imaginations.
Please feel free to participate in our online discussion!

The Principle of Hope Artists' Talk no.3:Li Jiaqi, Gary Zhexi Zhang
Speakers: Li Jiaqi, Gary Zhexi Zhang
Moderator: Yin Shuai
VooV Meeting ID: 234 955 307
Beijing 2021.11.27 4:00-5:30pm
Voov Meeting:

Streaming:
https://meeting.tencent.com/l/wUtSB9QNI8Ei
Artists' Bio


Li Jiaqi
Li Jiaqi is a visual artist. He uses pictures/images as material to challenge the existed visual experience. He is obsessed with the humor brought by the deception of the image, which is all around us, exists as tricks, camouflage, or ideal vision, and is easy to be produced and circulated. He claims to be a pessimist who pretends to be an optimist, a realist who pretends to be an idealist. After receiving his BFA from China Central Academy of Fine Arts in 2019, and exchanged to Glasgow School of Art (2017), Li earned his MFA degree at School of the Art Institute of Chicago with full scholarship supported by the Chinese Scholarship Council. His first and second solo shows in Glasgow (2017) and Chicago (2020) respectively, questioned the artist's role in society. Li entered the group show "ASA-XYZ Young Artist Award Nomination Exhibition" (2018) and the "2018 Art Nova 100" Opening Exhibition in Guardian Art Center in Beijing as a young artist. In 2020, he received the School of the Art Institute of Chicago's Clay Morrison Scholarship, which encourages graduate students to study art originating from beyond the academic mainstream.

Gary Zhexi Zhang
Gary Zhexi Zhang is an artist and researcher based in London. His first solo presentation, Cycle 25, was co-commissioned by Arts Catalyst and Bloc Projects. Recent and upcoming group exhibitions and screenings include Douglas Hyde Gallery (online); Liquid Ground, Para Site; Participation Mystique at Ming Contemporary Art Museum, Shanghai; the Swamp School at the Venice Architecture Biennale; The Internet as a City, 2nd Decentralized Web Summit. As a writer, he contributes regularly to Frieze magazine, along with journals and catalogues such as MIT Journal of Design and Science, VERGE Journal of Global Asias, (Documents on Contemporary Art), ArtReview and others.
Zhang is a founding member of the collaborative research studio Foreign Objects and a resident at Somerset House Studios. He is sometimes an adjunct lecturer at Parsons School of Design.
Moderator's Bio

Yin Shuai
Yin Shuai (b.1991) is a curator who lives and works in Milan. He has collaborated with FM Centre for Art Contemporary (Milan) since 2015 and became a lecturer at NABA in 2018. In 2019, he founded AP Project and started their collaboration with the German publishing house Archive Books. His articles and exhibition reviews are published in Segno, Mousse Magazine, Public Art, L@ ft, and other art magazines. His project "Death-Ray on the Coral Island" is selected as Emerging Curators Projects 2021, "Infancy and History" (with Andris Brinkmanis and Paolo Caffoni) is selected as finalist of OCAT research-based exhibition 2019, he has collaborated the exhibitions: The Principle of Hope(Inside-out Art Musuem, 2021) 2nd Yinchuan Biennale Starting from the Desert: Ecologies on the Edge (Yinchuan, 2018), The Szechwan Tale: Theatre and History (Milan, 2018), the 1st Anren Biennale (Anren, 2018), The White Hunter: Memories and African Representations (Milan, 2017), The Great Learning (Milan, 2017), Non-Aligned Modernity (Milan, 2016), The Unarchivable: Italy 1970s (Milan, 2016).