Upcoming Event | The Principle of Hope Conversation:Data Reform, Personal Information Security in the Internet Epoch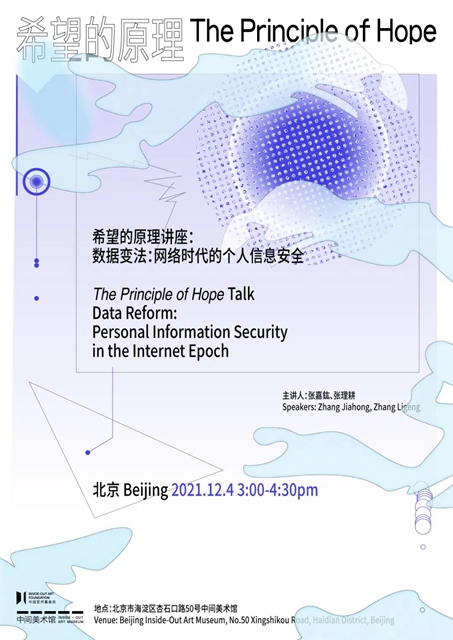 This Saturday, Beijing Inside-Out Art Museum is going to hold a conversation for the exhibition The Principle of Hope. The curator Jerome invites Max, management consultant of cybersecurity and information security, to respond to the discussion of the unit "Data Reform" in the exhibition. They will reflect on the "future" being shaped and determined by data from different dimensions, such as the case of artists, the experience of front-line data security practitioners, existing laws and regulations and their application.
Nowadays, commercial platforms and countries are increasingly visible in large-scale, all-pervasive surveillance and control of the main body in the network. Data governance and information security have become the focus of information law, as legislation on network security has been put on the agenda and arouses heated discussion. Max's response will focus on the following aspects: the background and content of laws relating to data security and personal information protection, the current situation of enterprises under strong supervision, data security assessment and compliance points, cross-border data transfer scenario analysis and regulatory requirements, and international data security legislation.
Jerome will elaborate on the back-and-forth between the visible and invisible dimensions of artists' "reforms" : On the one hand, the artist explores how individuals can break out of the gray area of the encircled method and get rid of the fate of being trapped in the data structure by Proxy, that is, how to hide, retreat or even directly exit under the visible algorithm technology. On the other hand, artists strive to expose those who unethically steal data to justice. These practical tendencies echo the "hope" principle of data legislation, which is to safeguard our digital human rights.
Speakers' Bio


Zhang Jiahong
Max Zhang is a management consultant of cybersecurity and information security at KPMG China. Mainly involved in the delivery of cybersecurity technical consultation, including security compliance assessment, security planning, information security management system construction, etc.

Jerome Zhang
Jerome is a curator and columnist who works on the field of contemporary art. He holds a law degree, specializing in art law theory and practice. Since 2020 to 2021, he was the visiting curator in Beijing Inside-Out Art Museum.
Editor: Scarly Zhou
WeChat: Wang Ren